A.

Proof of Concept Testing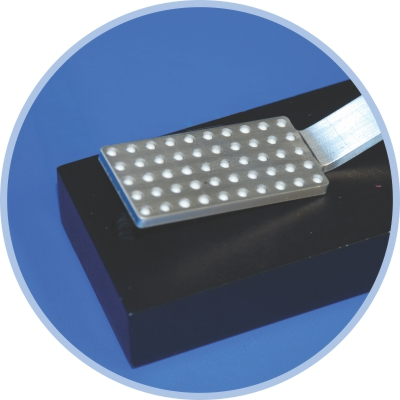 Initially, clients send us an aliquot of their assay reagent(s) along with their required bead size or reaction volume. We immediately formulate with up to five common excipients, and then manually dispense 5–150 beads for each customized formulation. We recommend splitting proof-of-concept batches into three or four lyophilization runs to determine the most favorable lyophilizing conditions. Most clients succeed in selecting some promising excipient compositions directly from this initial experimental run. Within just one week, we can provide our clients with proof-of-concept prototypes and determine whether or not the lyophilized bead technology will work for their assay needs.
B.

Formula Development and Automated Dispensing

Excipients are an integral part of reagent formulas. We assist our clients with excipient selection and provide support for formula development and optimization. We process samples quickly and return the lyophilized beads to our clients for evaluation. Automated dispensing initiates with batches of 500 beads.
C.

Lyophilization Cycle Development Process

We establish and optimize all lyophilization cycle parameters. Each product requires unique lyophilization settings, which depend on the components of the formula. This step is usually taken after our client locks the final formula and before formula validation.
D.

Formula Validation

Our internal SOPs and batch records are drafted before we start the validation and verification batches. We provide clients with the necessary number of validation batches to support their design control requirements. Our processes are customized to strictly follow each client's specific instructions on handling requirements and dispensing tolerances. We collect various dispense parameters during these validation runs. These parameters help our clients establish their product specification and acceptance criteria.
E.

Scale-up and Production

The lyophilization cycle used for small batches typically needs adjustments to accommodate larger batches and ensure optimal results. Validation of the lyophilization cycles is required before the final parameters are set. Part of Evik Diagnostics' know-how is to determine the optimal cycle for larger batches; we dispense several thousand beads and lyophilize them with varying lyophilization cycles. Our clients perform the functional testing to determine which cycle produced the best results. After the optimal cycle has been selected, the client's product specification and our internal processing documents are finalized. These documents provide our operators with customer-specific instructions for performing incoming inspections of reagents, formulating (if required), dispensing, lyophilizing, sorting, sifting, packaging, and labelling.
F.

Customized Assembly and Packaging

Evik Diagnostics recognizes the important need of customized assembly and/or packaging of lyophilized beads into client-specific devices. Whether it be microwell plates, PCR tubes, POC device tubes or microfluidic cartridges, we offer this service during both the R&D stage and validated production lots at scale. Due to the uniqueness and proprietary configurations of microfluidic assay devices, there is no single solution. We work with our client's team to determine the optimal manufacturing efficiency for each product on a case-by-case basis.
G.

Procurement Logistics

Recently, we have begun the process of procuring components and items to allow more customer-oriented service and products for our clients. Currently, this is assessed on a case-by-case basis.

CLIENT CONFIDENTIALITY: Evik Diagnostics is committed to confidentiality. It is not necessary for us to know the specific details of our clients' formulas. We normally sign NDAs with our clients. We respect each client's confidentiality: proprietary or patented technology. Furthermore, we work collaboratively with our clients and are open with our clients about how their product is processed.