Evik Diagnostics is a high-volume manufacturer of Single-Assay lyophilized beads.
We provide contract manufacturing services for the in vitro diagnostics and point-of-care (POC) industries, life science institutions, agricultural and environmental monitoring companies.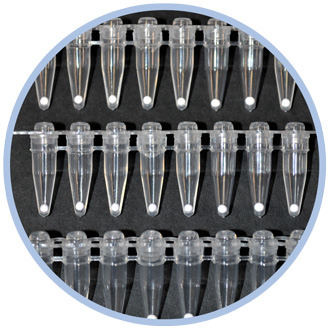 Our production batches range from as little as 1000 beads to as many as 150,000 beads per day. Reagents can be dispensed in volumes up to 30 µL, producing beads with diameters in the range of 1 to 3 mm. This range can be extended based on customer requirements.
We use ultra-low humidity rooms for handling lyophilized beads, including cartridge assembly. We have multiple freeze dryers and bead dispensing stations.
EVIKTM Single-Assay bead production process has extended precision monitoring and process control. The following are in place to assure that quality is built into our products and that we deliver to your exacting standards:
Materials specifications and incoming inspection procedures

Reagent handling and storage procedures

Process set up and monitoring procedures

Environmental temperature/humidity control and monitoring
Our ultra-low humidity environment ensures that all lyophilized beads maintain their high quality and low residual moisture content. We have extensive finished product evaluation processes, which include residual moisture, bead sizing, and mechanical and functional properties testing per customer specifications.